Your Complete Guide to Hiring Kitchen Equipment For Events
If you're considering hiring kitchen equipment for your next event, it's important to know where to begin. With a wealth of catering equipment available, the task will be made simpler by knowing precisely what you'll need. Firstly, we'll share our checklist for choosing your catering equipment, which will help you to determine where to begin:
1.Consider your event and your menu: Are you hosting a relaxed buffet or a full scale, five course dining experience? Every type of event will have its own unique and individual requirements for catering equipment essentials.
2.Get a rough estimate of how many guests you're expecting: You don't need to know an exact number, but a ballpark figure will help you to decide how much equipment and food you'll require.
3.Liaise with your venue and check if they have a kitchen and supplies or what items you'll need to bring: If you're hosting at home, ensure to check your dimensions to gage if you have enough space for the equipment you need.
4.Hire a reputable caterer if you're not cooking the meal.
Now that you've gathered some key pieces of information about your event, we're also here to share the types of commercial kitchen equipment here at Hireall.ie! Here's what you may need for your event…
Chafer Units & Gastronorm Inserts: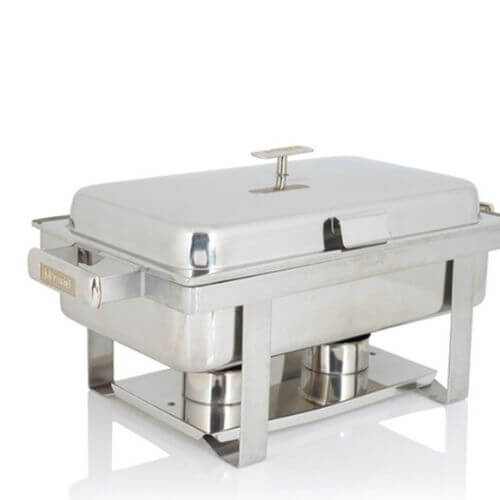 Chafer units are used to keep food at a safe temperature in kitchens, preventing bacterial growth. They can be used to keep many foods warm, such as meat, stews and more. They're an easy to use and affordable piece of catering equipment wherein water is added, offering a practical way to ensure your guests' food is as fresh as possible. We recommend our Brass Handle Chafer Unit, which can be used with a variety of inserts such as the Gastronorm Insert Full Size (1/1) 4in. Two of the Sterno Chafer Fuel are required for one of our chafer dishes.
Ovens & Hobs: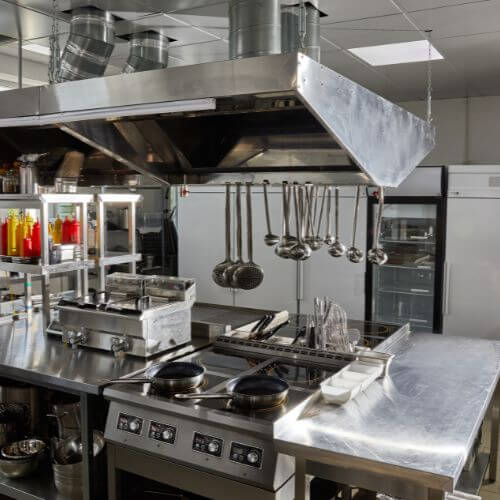 If you're cooking in large quantities, a commercial oven is a must for baking and roasting. For temporary kitchens, we recommend the Combi Oven 10 Rack, which has a 10 rack capacity and a digital display. If you're working in a kitchen where gas ovens cannot be used and also need to use a hob for cooking, check out the 6 Ring Industrial Oven Electric. This is a powerful, industrial-grade six plate electric option, complete with a twin fan-assisted oven constructed from heavy duty stainless steel and ideal for cooking food in large volumes at busy events.
Hot Plates: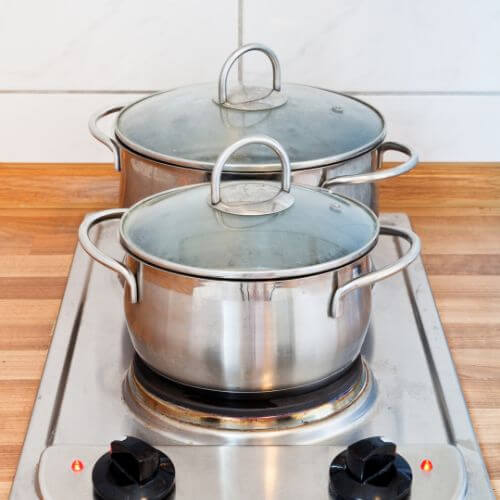 A popular choice for portable cooking is the Hot Plate Griddle 52in x 26in (Elec.), a powerful steel cooking plate which delivers even heat distribution and can be moved easily thanks to the fitted trolley. This is a suitable choice for temporary kitchens as it saves space, allowing you to cook multiple dishes on one unit. Top of Form
Grills and Fryers: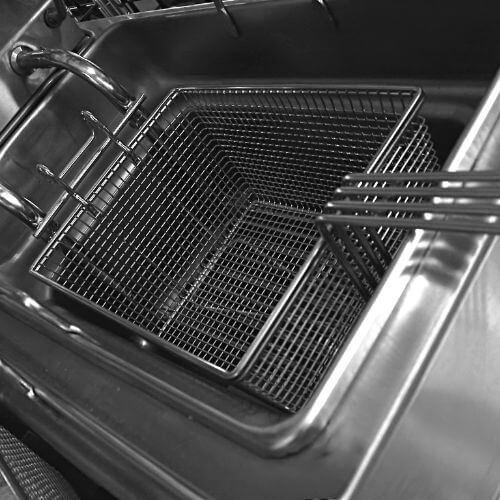 In addition to ovens, we also stock a range of grills and fryers, ideal for cooking meat, fish and fries. Our Deep Fat Fryer Gas (2 Basket) is heavy duty, perfect for high speed cooking and is freestanding, making it an ideal choice for temporary kitchens. It can be used with the Propane Gas Cylinder 25lb/11kg.
Banquet Carts: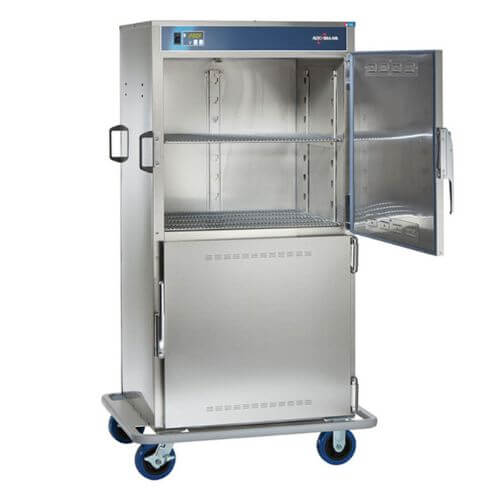 A banquet cart can be used as a mobile serving station, keeping dishes at an optimal temperature before being served to guests. Our Banquet Cart Single 2 Door can help to make serving food more efficient and timely. They're also an ideal space-saving item in small kitchens, taking up less space than traditional serving units. What's more, it's complete with wheels for ease of movement. Note: this doesn't cook food.
Microwaves:
If you require quick and efficient heating and defrosting, a microwave is a beneficial asset in any catering environment. Check out the Microwave Industrial for a high quality, professional option.
Soup Kettles, Carving Units & Misc: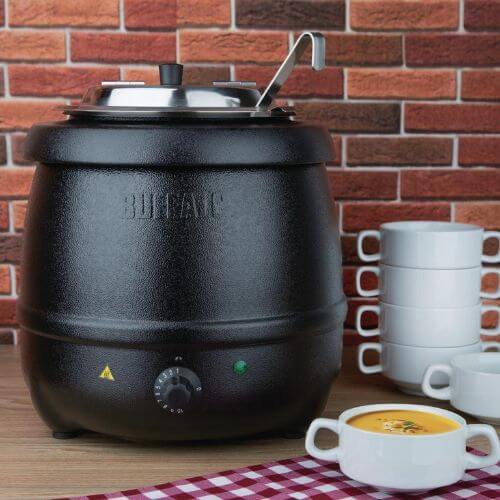 We stock a wide range of miscellaneous equipment for cooking and heating that you may require. One of the most popular starters at weddings, banquets and parties is soup, and our Soup Kettle (10 Litre) holds up to 10 litres. It can also be used for chilli, stew or even mulled wine, perfect for Christmas parties! And if you're serving a carvery-style dinner, the Heated Carving Unit 2 Lamp will ensure your meat is served at the perfect temperature, great for serving counters.
Preparation is essential in any kitchen, especially when you're working in a bustling environment with high volumes of orders/dishes. To ensure your kitchen runs as smoothly as possible, we recommend:
Preparation Table:
You'll need a work station, and our Stainless Steel Preparation Table is a robust, stainless steel option with an easy to clean surface and foldable legs for convenience.
A Bain Marie: A Bain Marie will ensure your meals retain their flavour, texture and temperature. Thanks to a hot holding cupboard, our Bain Marie 4 Well with Hot Plate & Gantry Lights will keep your dishes at the optimal temperature, using dry heat to ensure food will be kept moist and fresh. Top of Form
Plate Rack:
Also known as a jackstack, these are ideal for high volume events, thanks to their ability to hold multiple plates before serving, saving you precious space in the kitchen. Fitting in most cold rooms, our Jack Stack Plate Rack holds 100 starter/dessert plates and is fitted with wheels so it's easily moveable.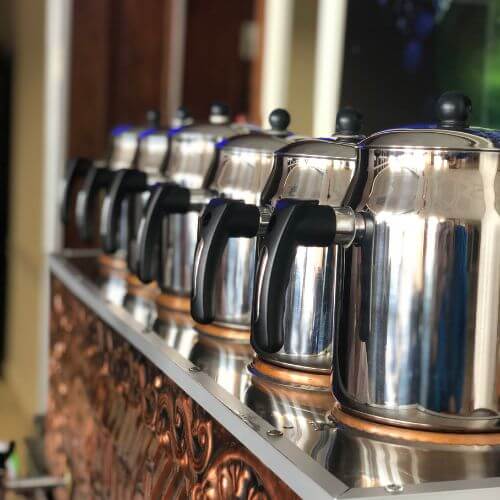 Most events are complete with a hot beverage service, and we stock everything you'll need to ensure after dinner drinks or coffee mornings are a success.
Our Water Boiler 23 Litre provides portable access to boiling water without requiring any mains plumbing, making it an apt choice for portable/temporary kitchen environments. It holds 20 litres (approximately 200 cups).
For making perfect filter coffee, we recommend the Coffee Percolator (101 Cup), which has a capacity of 18 litres, whilst tea and coffee can be served efficiently in our Bellux Tea Pot 60oz and Bellux Coffee Pot 60oz, made from stainless steel and double wall technology to keep beverages hot. Also ideal for keeping drinks hot throughout beverage services is the Pump Action Flask 3 Litre.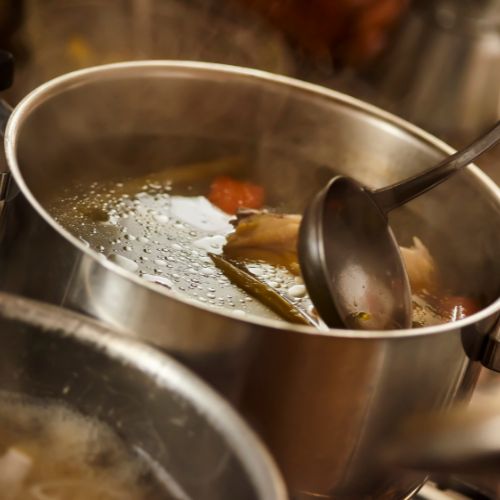 Kitchen utensils will be an essential component of your kitchen equipment, helping you to serve and store food throughout your event.
A variety of kitchen utensil essentials are available here at Hireall.ie, including highly popular items such as the Stock Pot 23 Litre to cook soups or broths in large volumes, the Oval Flat Serving Tray 20in which is ideal for serving finger food and canapés, Roasting Tray 20in x 12in for roasting in ovens and the Serving Spoon 14in which strains liquids to make serving food fuss-free and efficient.
Top of Form
Safety is vital when operating around food. Here are our top recommendations to ensure you and your guests stay protected:
A hand-washing station: If you're working with limited space ,the Hand Wash Sink Unit 10L (Round) is a convenient option for temporary and small kitchens and outdoor events, offering a portable hand washing unit in a 10 litre water tank with over 50 hand washes per fill.
A dishwasher: A dishwasher is essential for commercial catering, as it saves precious time, allowing you to wash high volumes of serve ware, cutlery and crockery at once. Our Hood Dishwasher with Pre Rinse Sink & Table is a pass-through system, perfect for large hospitality events.
Bin Ring / Refuse Sack Holder: Rubbish can accumulate quickly, so we recommend picking up our Bin Ring / Refuse Sack Holder, a free-standing unit ideal for use at both indoor and outdoor events.
Commercial refrigeration is essential if you're chilling or freezing large quantities of ingredients, cold dishes and beverages. We offer a range of catering fridges and freezers, including:
Buffetware:
Order your kitchen equipment in Dublin from Hireall! The Hireall team has over forty years unrivalled expertise, and we're proud to offer Click & Collect or Next Day Delivery to our customers.
Have a question? Contact us at 01 295 3821 or info@hireall.ie, where our dedicated team will be delighted to assist you with any queries you may have. Hireall - The Event Hire Specialists.