Your Complete Guide to Event Furniture For Hire!
When planning an event, selecting furniture is a vital decision. However, with numerous options available, it can be challenging to determine which event furniture will best suit your specific needs.
Enter Hireall.ie! We offer a wide range of furniture options for hire, allowing you to choose pieces that align with your event's theme, style, and functionality. Whether you're organizing a corporate gathering, wedding, party, or any other special occasion, understanding the various types of event furniture available and their suitability for different settings can help you make informed decisions. In this guide, we'll explore different categories of event furniture, highlight specific product recommendations, and provide insights into selecting the ideal furniture pieces for your event. By the end, you'll be equipped with the knowledge to create an inviting, comfortable, and visually appealing space that leaves a lasting impression on your guests!
Choosing a Theme: Setting the Stage for Memorable Events
Choosing a theme for your event is a crucial step that sets the tone and atmosphere for the entire occasion. The theme not only guides the selection of furniture but also helps create a cohesive and immersive experience for your guests. Here are some popular themes and furniture options that can elevate your event:
Rustic Theme:
The rustic theme embraces the charm of nature and showcases organic elements. To achieve this look, consider the Rustic Oak Table (6.6ft) as a centrepiece, complemented by the Bentwood Rustic Oak Chairs for a comfortable and rustic seating arrangement. Add the Wooden Barrel Pod Table to complete the natural aesthetic and create an inviting atmosphere.
Classic Theme:
A classic theme exudes elegance and timelessness. The Chesterfield 3-Seater Sofa in tan leather is an excellent choice for creating a sophisticated seating area. This iconic piece of furniture adds a touch of refinement to any space, making it perfect for formal events and upscale gatherings.
Contemporary Theme:
For a modern and sleek ambiance, opt for contemporary furniture. The Alaska 3-Seater Sofa and Alaska Armchair in white offer clean lines and a minimalist aesthetic. These pieces create a stylish and sophisticated seating arrangement, ideal for events with a contemporary aesthetic. Also popular is our new Capri range, a contemporary offering with a pop of colour!
Colourful/Fun Theme:
Inject vibrancy and excitement into your event with a colourful and fun theme. The Pop Bench, Wow Bench, Smartie Bench, Snake Bench (illuminated), and Mighty B Beanbag are all playful and eye-catching options that add a lively and engaging element to your outdoor space.
Vintage Theme:
Transport your guests to a bygone era with a vintage-themed event! The Georgian Scroll End Sofa in burgundy and the Georgian Side Table in mahogany speak classic charm. These pieces provide a sophisticated seating arrangement, perfect for vintage-inspired gatherings and themed parties.
Nightclub/Party Theme:
For a dynamic party atmosphere, consider the nightclub/party theme. Illuminated furniture adds a captivating element to the space. The Cube Illuminated Large (29.5in) and Peak Pod Table (illuminated, tall) are excellent choices for creating a vibrant and energetic ambiance, perfect for parties and celebratory events.
Choosing Event Seating:
Selecting the right event seating is crucial for ensuring your guests' comfort. Comfortable seating encourages social interaction and allows attendees to relax and fully enjoy the event. Consider the following ideas when choosing event seating:
Lounge Cocktail Furniture/Seating:
Lounge and cocktail furniture adds an element of style and sophistication to your event. The type of lounge or cocktail furniture you choose will depend on the type of event you're hosting, such as a corporate event, wedding, or party. Here are some of our recommendations for each area:
Chill Out Areas (for events such as Company Fun Days):
Create relaxed and casual chill-out areas for company fun days. The Alaska range is an excellent option for establishing a laid-back and inviting space where guests can unwind and socialize.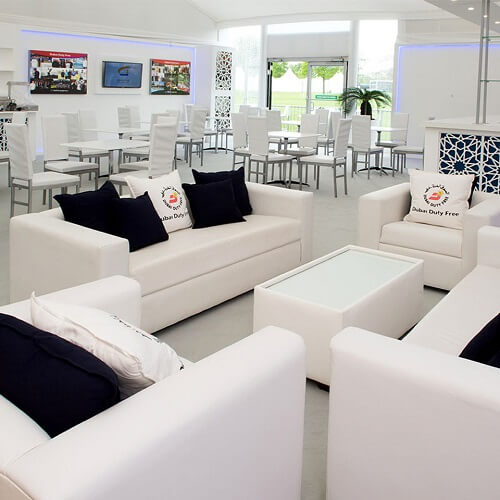 Networking Areas (Corporate Events, Trade Shows):
Networking areas require seating that encourages interaction and conversation. Consider the Flow Range, including the Flow Medium Dining Table, for a professional and stylish setting that fosters networking and engagement at corporate events and trade shows.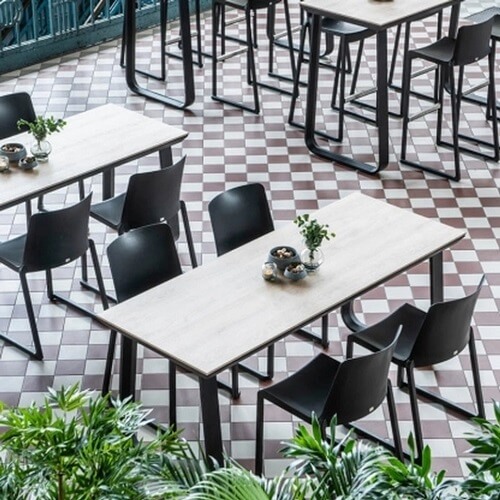 Cocktail Area/Breakout Areas (Parties, Corporate Events):
For lively parties or corporate events with a focus on socializing, set up cocktail areas with pods, sofas, and furniture from our Palm Range. The Palm Armchair and Palm Coffee Table with a glass top offer comfortable and stylish seating options for guests to relax and enjoy the event.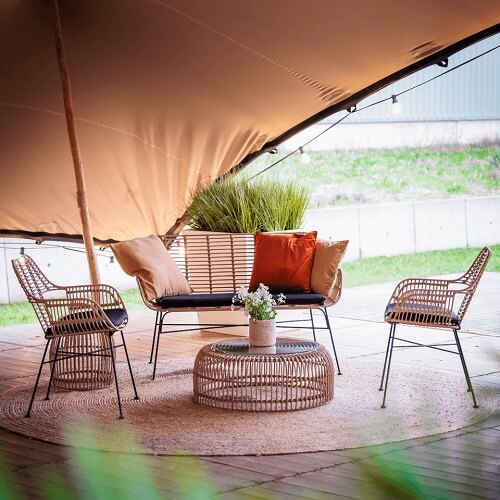 Tables and Chairs:
Tables and chairs are fundamental elements of any event setup. Here are some of our various types of tables and chairs you may wish to consider for each event hire purpose:
Banquet and Dining Tables & Chairs: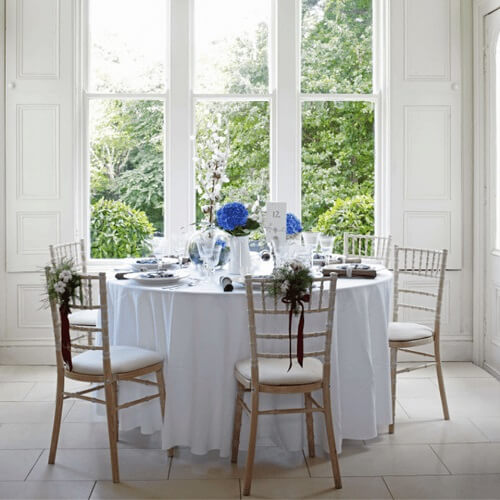 Bar Tables & Stools: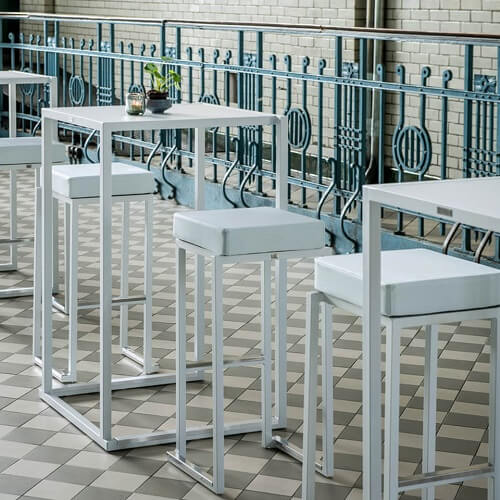 Cocktail and Bistro Tables:
Cocktail and bistro tables are versatile and can be used for various events. The White Square Pod Table and Pod Table are popular choices for creating intimate seating arrangements and allowing guests to socialize comfortably.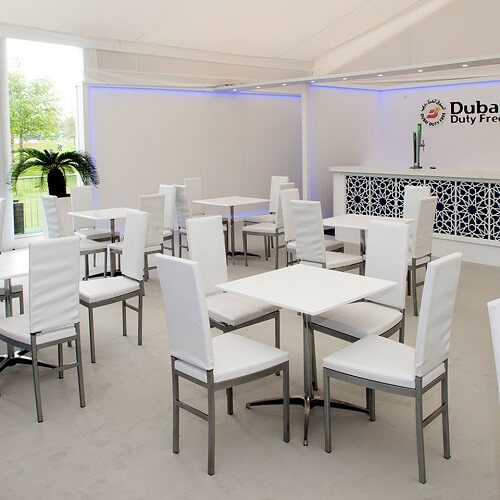 Conference Tables & Chairs: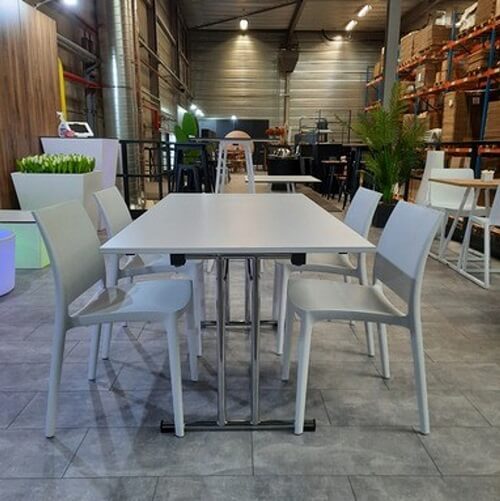 Choosing Outdoor Furniture for Hire:
When hosting outdoor events, it's essential to choose furniture that can withstand the elements while providing comfort and style. Here are some outdoor furniture options to consider:
Seating Essentials: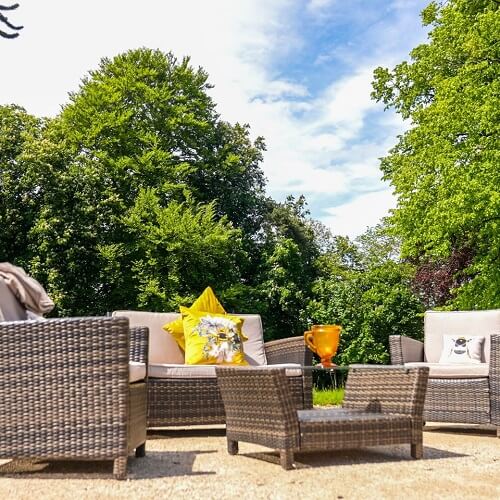 Deckchairs and Wooden Garden Furniture:
For a relaxed and laid-back atmosphere, consider traditional wooden deckchairs, such as the Traditional Wooden Deckchair in blue and white. Wooden garden chairs add a touch of natural beauty and blend seamlessly with outdoor surroundings.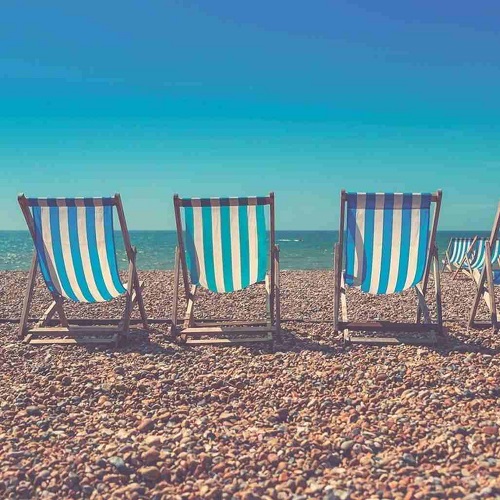 Miscellaneous Items:
Additional items such as gazebos, like the Gazebo Black 10ft x 10ft can provide shade and protection from the elements. The Wooden Parasol (cream) adds a stylish touch and helps create a comfortable outdoor space.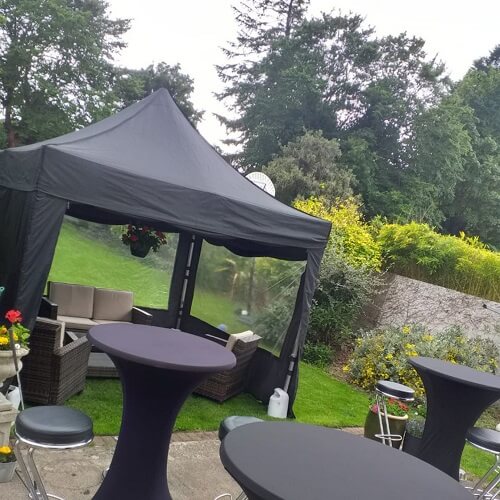 Choosing the right furniture and theme for your event sets the stage for a memorable experience. Consider the nature of your event, the desired atmosphere, and the comfort of your guests when making furniture hire decisions. By carefully selecting seating arrangements and complementary furniture, your event is sure to be a success!