Seating Plan Guide for Corporate Events
Organising a corporate event and aren't sure how how to choose a seating plan? If you have organised a corporate event before, you'll understand that corporate event seating can be a challenge, and sometimes overlooked.
Zones are categorised for functions, so that different areas require different seating options. For example, you may need some formal seating areas for talks, some more relaxed, casual seating for break-out areas, bistro chairs for cafes, high stools for bar areas etc.
A good seating plan is vital, and can determine how your guests experience your event, so prudent planning is a must.
At HireAll we provide extensive seating options for corporate events in our Chair Hire section. Below, we'll discuss potential chair choices.
Intimate Audiences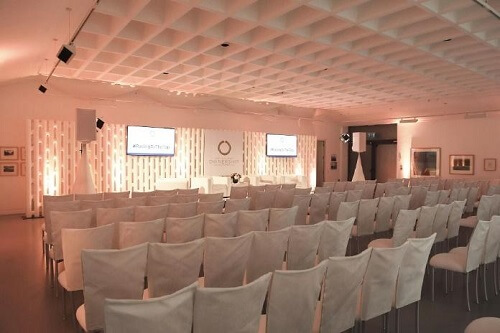 If you're hosting an event where you need a stage but are expecting an intimate crowd, there's little need for tiered seating. Instead, we recommend placing your seats close together, ensuring to leave space between every 4-6 chairs to allow for the movement of your guests. Pictured above is our Oscar Chair at an event by Tara O Connor. It leaves a perfect space in between rows to allow easy and quick access to enter and exit their row. The Padded Banquet Chair Red / Blue is also an ideal choice for this type of event seating.
Bar Stools
This is a fun way to allow your guests to network before your conference starts or after a presentation or speaker is finished. Keep the design simple with these Pod Tables and our Button Bar Stools. All you need is a full-service bar for the finishing touch!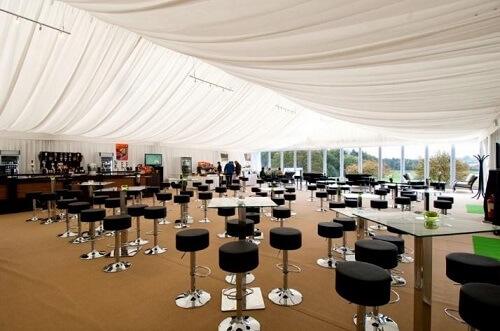 Furnishings
Bean Bags & Two-Seaters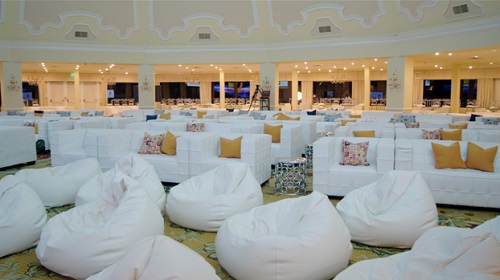 Here's a fun way to mix up conference seating. Implement mixed furnishings such as bean bags, two-seaters, and armchairs like in this example. Keep the look somewhat uniform by using the same colour scheme. Bean bags to the front due to their lower seating position of course! Our vast selection of Bean Bags is perfect for this.
Outdoor Seating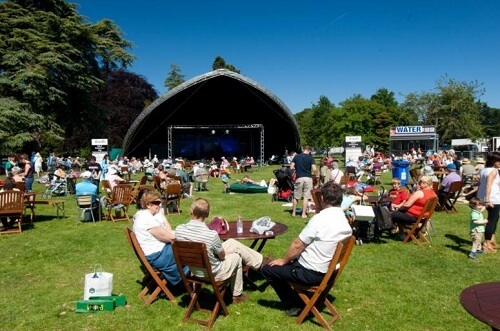 Need seating ideas for an outdoor corporate event? Get some wood furniture to fit the scenery. It is a great way to make your guests feel relaxed by making them feel as though they are just having a weekend barbeque. It also allows for more casual discussions and networking. We recommend our Wooden Garden Set (4 Seater).
Classy Corporate
This white ensemble is definitely classy and chic. Every big corporate event needs seating or break out areas for guests to come relax and of course, network! Try our Alaska Furniture!
Modern Mingle
For an event that requires various seating arrangements within one corporate area we include a mix of our Button Bar Stools, Ottoman Lounge Furniture and Armchairs. It's worth going the extra mile for this modern lounge for networking and relaxing. Trust us, your guests will thank you!
Corporate Evening or Launch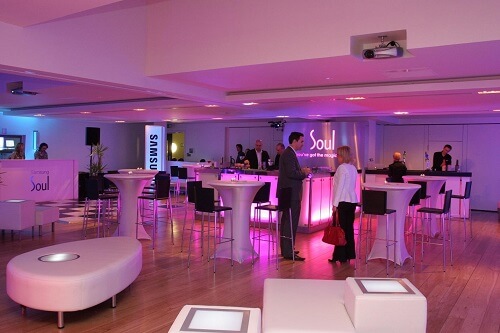 Crucial to the success of new products are the product launch events. Our Lounge 22 range works really well with this type of job and our Pod Table with Spandex Covers are a great accompaniment.
Illuminate The Way
Whether you want to be futuristic simply just fun, our Illuminated Furniture is a sure way to impress a crowd!